Princess of the Silver Woods by Jessica Day George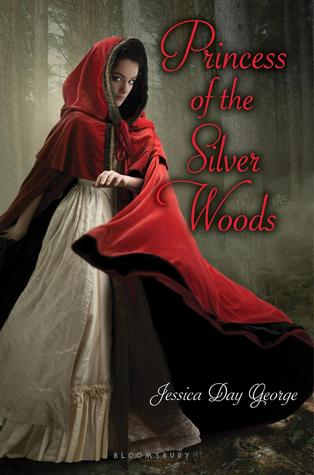 Summary in a Nutshell: Little Red Riding Hood is one of the twelve dancing princesses and she is kidnapped by Robin Hood.
Princess of Glass is the final book in Jessica Day George's Princess series. I've read/reviewed the first two (Princess of the Midnight Ball and Princess of Glass) and I was excited to read this one (due in part to that gorgeous cover!). This story centers on Petunia, the youngest of the twelve princesses and the only one who still truly enjoys dancing. She was six when she and her sisters were cursed to dance nightly for the King Under Stone. Unlike her sisters she was too young to remember life ever really being different so she doesn't have a problem with the dancing; it's just what she knows. As the story begins, Petunia is on her way to stay with the Grand Duchess Volenskaya at her estate (which she somehow came to possess at the end of the Analousian war) when she is accidentally kidnapped by Oliver, leader of the band of masked theives known as the "Wolves of Westfalin Wood". Oliver is an Earl without an Earldom which is why he has resorted to banditry to try to take care of his people. In a coincidence that only occurs in books, Oliver's mother was a lady-in-waiting for Petunia's mother, Queen Maude. As such, Oliver's mother has an inkling (or mother's intuition?) that Queen Maude may have gotten her daughters wrapped up in something. Therefore, she charges Oliver to escort Petunia to the Grand Duchess' estate and tells him to make sure Petunia is safe. After a shadowy figure tries to get in Petunia's room it becomes quite apparent that something is amiss. Petunia and Oliver join the rest of the princesses, Galen (Princess Rose's husband) and Heinrich (Princess Lily's husband) as they try to defeat King Under Stone's curse once and for all.
I liked the story itself (even though parts were eerily similar to the first book) but I was disappointed with the fairy tale aspect of it. Other than a red cape and a guy in a wolf mask there isn't a whole lot of Little Red Riding Hood going on after the first couple of chapters. The reappearance of all the princesses, their husbands, King Under Stone's sons, Walter, and the crazy old "Good Frau" make Princess of the Silver Woods more of a direct sequel to Princess of the Midnight Ball than a stand-alone story like Princess of Glass. Overall I'd give it 3 & 1/2 dancing shoes out of 5.