Review: Tiffany Girl by Deeanne Gist
Tiffany Girl
Deeanne Gist
My rating: 4 & 1/2 Tiffany Lamps
About the book
: Mr. Louis Comfort Tiffany, son of the famous jeweler, has been commissioned to create stained glass windows for a chapel at the Chicago World's Fair. The male glass cutters and other workers decide this is the perfect time to strike. They want higher wages and fewer hours and they know Mr. Tiffany has a deadline to get these windows done. Well, Mr. Tiffany isn't about to play their game and hires female art students to tackle the windows. These ladies are "Tiffany Girls". Among them is Flossie Jayne. Flossie loves to paint. When her father loses her art school tuition by betting on horses, Flossie decides to move out and become a "New Woman". Unfortunately, Flossie is young and naive. She just wants to be able to keep her own money. Flossie doesn't have a clue how the world works, what it truly means to be a "New Woman", or what it could cost her .
* * * * *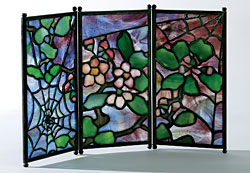 My thoughts:
This isn't my favorite Deeanne Gist novel, but I still really enjoyed it.
I will admit I connected more with Reeve (journalist and fellow boarder) than Flossie. She had passion and drive but couldn't really see past herself. Flossie is young though (21 or 22 I think. Doesn't the cover model look older?) so I will cut her some slack. She does grow up and learn the hard way throughout the novel. I would have liked to have spent more of the novel with the other Tiffany Girls. I mean, for a 500+ page novel called Tiffany Girl I would expect to spend more time with the glass workers than with the boardinghouse residents. That is a small thing though. I would've missed the boarders if they weren't around and including both sets of people equally probably would've added another 200 pages to the novel.
On a totally random side note, I had the opportunity to see a Tiffany Lamp exhibit at the Biltmore House (the setting of Gist's Maid to Match) a couple of years ago. Those lamps are so beautiful. I just wish this novel had come out before the exhibit so I could more fully appreciate the steps that went in to making each lamp. That's one of the fun things about historical fiction: you get to learn something new (or old actually) by trying to find out what is real, what the author tweaked, and what is pure fiction. Wouldn't you agree?
If you read reviews on Goodreads, which every serious Book Nerd does, you will probably see some reviews questioning the "cleanliness" or "appropriateness" of Tiffany Girl due to a wedding night scene at the end. Honestly, I read absolutely nothing untoward in that scene. I mean, Flossie was still wearing her chemise and bloomers at the end of the scene. The make-out scene was hotter. I think what people actually have a problem with is the fact that a Christian lady isn't writing stereotypical "Christian Fiction". As far as I am concerned, there is no cussing and no explicit sex scenes so I consider it a clean novel. To each his own.
* * * * *
As far as the quiz in my last post, I really couldn't tell you if I'm really like Aggie or not. We don't see her enough to really get to know her personality. I would say I'm a lot like Reeve though: studious, quiet, bookworm.
* * * * *
Fun Fact: The Ferris Wheel was invented for the Chicago World's Fair to out-do the Eiffel Tower which was constructed for the Paris World's Fair. I love Ferris Wheels, but my favorite carnival ride is the swings. Do you have a favorite?
**I received a free copy from the publisher in exchange for my honest review.**